Event ID: 12293 – Event Source: VSS ("Routine details Cannot ask provider if volume is supported.")
O.K., wir haben zusammen mit unseren Partnern für einen Klienten etwas gemacht, was so von Microsoft nicht unterstützt wird:
Wir haben mit Hilfe von Acronis® Backup & Recovery (re-Imaging) einen Windows Server 2003 auf größere Festplatten umgezogen.
Soweit so gut, nur funktionierten danach die Volumenschattenkopien nicht mehr und damit auch keine Sicherung mit NTBackup. Laut Arcronis kann es unter seltenen Umständen hierzu kommen, wenn man eine Funktion namens "restore disk signatures" benutzt.
Hierbei "verwirrt" man den VSS, weil er zwar gemäß der ihm bekannten Signaturen ein Volumen mit aktivierten Schattenkopien erwartet, aber die dazugehörigen Daten nicht mehr vorhanden sind. Arcronis kopiert diese schlichtweg nicht mit.
Also hatten wir auf diesem Server den Fehler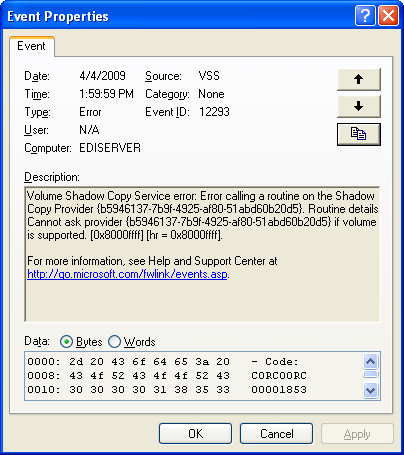 Tja, wat nu…..
Ganz einfach! Man nehme das kleine Tool MBRWizard Command Line, welches Sie als Freeware unter dem URL http://firesage.com/mbrwizard.php herunter laden können.
An der Kommandozeile geben Sie nun den Befehl mbrwiz /signature=read ein und lesen die gegenwärtige Signatur aus.
Sie bekommen eine Ausgabe, wie die Folgende
MBRWiz – Version 2.0 **beta** for Windows XP/2K3/PE April 30, 2006
Copyright (c) 2002-2006 Roger Layton http://mbr.bigr.net
Disk 0 signature read as 0x4011A18E
Notieren Sie sich das für Notfälle und ändern Sie die Signatur ganz leicht ab, in dem Sie eine Ziffer mit +1 oder –1 bearbeiten. In unserem Beispiel möglicherweise zu 0x4011A28E.
Verwenden Sie nun an der Kommandozeile den Befehl mbrwiz /signature=write /value=[Neue Signatur] und starten Sie Ihren Server neu.
Nach dem ersten Neustart, werden Sie wegen des Entdeckens und Hinzufügens neuer Geräte noch einmal zu einem Neustart aufgefordert.
Wenn der Server nun wieder online ist, können Sie Ihre Schattenkopien neu einrichten und NTBackup funktioniert auch wieder.
Was ist die Moral der Geschichte: Ziehe niemals ein Image eines Servers nicht!
(Diese Lösung wird "AS IS", ohne Gewähr, zur Verfügung gestellt und begründet keinerlei Rechte!)
P.S: Der Screenshot stammt von der Seite http://dascomputerconsultants.com/VolumeShadowCopyBroken.htm. Vielen Dank an David Soussan.
---
Aktuelles finden Sie stets auch auf der Website, oder auf Twitter.  
Experten machen den Unterschied: Lesen Sie, weshalb die Zusammenarbeit mit einem Microsoft Partner Silver Small Business und und Mitgliedsunternehmen der MSPAlliance die Wettbewerbsfähigkeit Ihres Unternehmens erhöht.
Sollten Sie aktive Unterstützung benötigen, können Sie sich jederzeit an uns wenden und nach unseren Managed Services, oder unseren Microsoft Office 365 Diensten für kleine und mittelständische Unternehmen in der Region Hamburg fragen.
Unsere Aufgabe ist es, Ihnen bei der Verwaltung Ihrer Netzwerke zu helfen, damit Sie sich um Ihr Geschäft kümmern können.
Lassen Sie uns Ihnen helfen, die Methoden und Richtlinien zu entwerfen, die Ihr Unternehmen noch erfolgreicher machen.
Unser Ziel: "Enterprise Solutions and Quality for Small Business"
Unsere fünf Kerndienste: Managed Workstations – Managed Email – Managed Cloud – Managed Continuity – Managed Security
Sorry, the comment form is closed at this time.
Branchenverbände

IT-Systemverbünde

Kalender

Archive

Disclaimer

Dies ist der Unternehmensblog von NIERO@net e.K.

Für die Unternehmensdarstellung und Dienstangebote besuchen Sie bitte unsere Unternehmens-Website!

Dieser Blog und dessen Inhalt wird "AS IS", ohne Gewähr, zur Verfügung gestellt und begründet keinerlei Rechte!

Diese Website enthält Verknüpfungen zu Websites Dritter ("externe Links"). Diese Websites unterliegen der Haftung der jeweiligen Betreiber. Der Anbieter hat bei der erstmaligen Verknüpfung der externen Links die fremden Inhalte daraufhin überprüft, ob etwaige Rechtsverstöße bestehen. Zu dem Zeitpunkt waren keine Rechtsverstöße ersichtlich. Der Anbieter hat keinerlei Einfluss auf die aktuelle und zukünftige Gestaltung und auf die Inhalte der verknüpften Seiten. Das Setzen von externen Links bedeutet nicht, dass sich der Anbieter die hinter dem Verweis oder Link liegenden Inhalte zu Eigen macht. Eine ständige Kontrolle der externen Links ist für den Anbieter ohne konkrete Hinweise auf Rechtsverstöße nicht zumutbar. Bei Kenntnis von Rechtsverstößen werden jedoch derartige externe Links unverzüglich gelöscht.

Der Blog wird von NIERO@net e.K. als Teil der Dienstleistung gepflegt. Die Inhalte sind selbst verfasst und nieder geschrieben. Zitate und Verweise sind als solche unter Angabe der Quelle gekennzeichnet!

Alle Fotos, Bilder, Zeichnungen, Illustrationen und Daten dieses Blogs unterliegen dem Urheberrecht / Copyright ihrer jeweiligen Besitzer!

Wir besprechen und erwähnen in diesem Blog verschiedene Anbieter, Produkte und Dienstleistungen. NIERO@net e.K. erhält für das Erwähnen und Besprechen weder Unterstützung noch Geld. Jegliche Unterstützung eines Anbieters oder Herstellers für das Erwähnen und / oder Besprechen eines Produkts wird im jeweiligen Blogbeitrag vollkommen offengelegt!

E-Mail-Abonnement

NIERO@net e.K. Twitter-Timeline

Meine Tweets

Infocon SANS Internet Storm Center